Online Reputation Management is imperative for Chiropractors. Today, people turn to search engines to research most purchase decisions and deciding who to trust with your health is a big decision. Studies show that 84% of patients use online reviews to evaluate physicians and 77% will turn to online reviews as the first step in selecting a doctor. The good news is: by following a few best practices you can ensure that potential patients find your practice's complete, positive online reputation when they go searching for chiropractic services.
Make Your Practice Easy to Find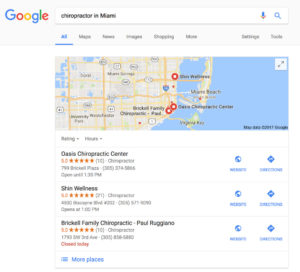 The idea is to make sure that search engines know what your business does, and where it is located. Digital marketing professionals refer to this as "Local Search Optimization" or "Local SEO." If search engines like Google recognize that a user is searching for something where a location is relevant (like a chiropractor), it will make recommendations based on user location. The way Google chooses companies to recommend in search results is complicated, but one thing is for sure: they need to know about you. Google does not want a bad reputation for sending people to the wrong location, so the search engine looks for verification in multiple places across the Internet. The more places where your exact contact information is published, the easier it is for search engines to validate. Your chiropractic practice's name, address, and phone number (NAP) should be standardized and published in the same way on as many websites and directories as possible.
Complete Your Profiles
For search engines, and for people, more data is generally better. Having a profile is fine, but including pictures and background information about the practice, staff, service and specialties can set you apart from your competition and help your profiles rank higher in search engines. We recommend filling out your profiles on at least the following six sites.
Creating a strong, established presence on these sites will make your profile appear higher in search results when people search for your chiropractic clinic (or individual chiropractors) by name.
Monitor Your Reputation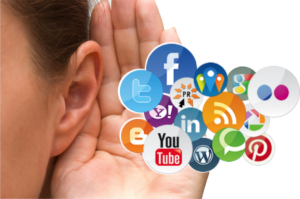 Once you've ensured that it's easy to find you, the next step is to get involved in the conversation. Patients are going to review you, write about you, and mention you on Social Media! This is an excellent opportunity to demonstrate customer service and build relationships with your patients, but it can be time-consuming. We recommend setting up a monitoring system to notify your team whenever you are mentioned online. A good Internet monitoring system can notify you whenever your practice or a specific chiropractor is mentioned online. This ensures you are always up to date with what is being said about you online, and you can respond in a timely manner.
Respond to Reviews
Whether they are positive or negative, responding to legitimate reviews is best practice. New York Times Bestselling Author on the topic of online reviews, Bill Tancer is quoted in an interview with Search Engine Land saying:
"The worst thing you could possibly do was not respond [to a review] at all. In fact, it was worse than responding inappropriately."
In most cases, it's best to approach every review with gratitude. After all, someone took the time to write about their experience with your company. If you can make it clear that you appreciate all positive feedback and take constructive criticism seriously, potential patients will take note of your commitment to customer service.
Note: If you suspect that a disgruntled employee, unethical competitor, or personal enemy is posting false information to damage your business, then you should consider talking to an online reputation management professional about
removal options
before responding to the review in question.
Treat Every Patient Like a Reviewer
Did you know that only about six percent of patients will leave bad reviews? Many chiropractors run into issues simply because that six percent are the only people leaving reviews. There are a number of practices that you and your staff can utilize to encourage happy patients to leave reviews.
Assume everyone will leave a review and offer outstanding customer service.
Mention how important reviews are to your company in conversation with patients.
Include links to review pages in your email signature.
Utilize your email list to request reviews.
Offer promotions for patients who do leave a review (positive or negative).
Include a link to review websites on your business cards.
Are You Busy?
By following the five steps above, your chiropractic practice will be on its way to a better online reputation. We understand that time can be limited, and some chiropractors want help implementing these strategies. Reputation Resolutions has helped hundreds of companies and individuals create, strengthen, and maintain their online reputation, and we'd love to tell you more about our process. If you are interested in improving your visibility in search engines, creating a positive online reputation, and attracting new patients, call us today at (855)239-5322 or click Contact Us below to fill out the form and someone from our team will be in touch shortly to discuss your needs in more detail.